Contact Us
If you have any questions or concerns please feel free to contact us.
By mail:
3311 Toledo Terrace Unit C-202
Hyattsville, MD 20782
By phone:
(301) 853-9100
By fax:
(301) 853-5858
By email:
info@cambridgegna.com
............................................................................................
CNA/ GNA FAQ
Q: What happens after the completion of the course?
A: You will receive a CNA diploma from Cambridge Nursing Assistant Academy.
A: You will also receive a CNA certificate from MD Board of Nursing. (You can start working with it.)

Q: When will I take the GNA test?
A: After your paper work is submitted to Red Cross with the $95.00 money order, Red Cross
will pick a date for you to be tested.

Q: Where will I take the GNA test?
A: The GNA test will be at Cambridge usually on Thursdays at 7AM sharp.

Q: After I pass the test when will I get my GNA License?
A: You will receive 2 exam results the same day of your GNA test. If you pass both written and skills test, you will wait till you have your pink CNA certificate from the MD Board of Nursing (MBON) and take:
1. Your 2 GNA exam results
2. Your CNA card from MBON
3. $10.00 money order
In person to MBON to get your GNA license or else it can take about 6 months to get your GNA license.

Q: Now that I'm a nurse, how do I get a job.
A:
1. Please look in the Gazette, Washington Post and other periodicals.

2. Use the list of employers that will be given to you by your school.

3. Do not give up because employers ask for experience. You have experience. You have been around people your whole life. That is your experience. Use your work experience even if it has nothing to do with Nursing.

Q: Where can I work as a CNA/GNA.
A: Hospitals, Nursing Homes, Home-Health Agencies, Mental Health Hospitals, Hospital Center, anywhere people are sick you can work.

Q: What is the difference between CNAs and GNAs .
A: CNA/GNA is the course that you're taking. After the program, you will receive your CNA certificate first. That makes you eligible to take the State Board test known as the GNA exam. So the GNA is just the test you take after the course.
A: After you pass the GNA test, your CNA license will be exchanged for a GNA license by the MD Board of Nursing.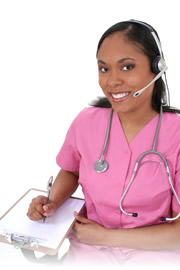 Links:

Nurses on call.
Home Healthcare Nurses On
Call has been a trusted homecare provider for adults and seniors. Whether you or your loved one is living with a chronic condition, recovering from illness, or simply in need of daily ssistance, we
have the resources to accommodate your needs.

Maryland Board of Nursing.
The mission of the Board
of Nursing is to advance safe
quality care in Maryland through licensure, certification,
education and accountability
for public protection.
Promissor
Promissor is a leading worldwide provider of services for measuring
what people know. If you're looking for excellence in technology-based assessment services, you've come to the right place. Just find the links that meet your needs...
Maryland higher education commission.
MHEC is the State of Maryland's higher education coordinating board esponsible for stablishing statewide policies for Maryland public and private colleges and universities and for-profit career schools.